Major Rolls-Royce East Kilbride plant to close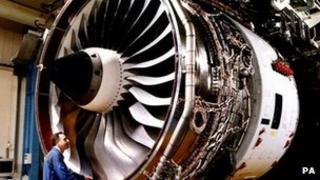 Aerospace giant Rolls-Royce is to close one of its major plants, in East Kilbride, after deciding to move operations to another facility.
Aero-engine repair and maintenance is being shifted to a more modern plant at Inchinnan, near Glasgow Airport, along with its 600-strong workforce.
Rolls-Royce said the 59-year-old East Kilbride plant, which will close in 2015, was nearing the end of its life.
Local politicians said the decision was a huge blow to the local area.
The East Kilbride workforce will move 16 miles to Inchinnan, joining the 1,000 people already working there.
Rolls-Royce said the move would be more efficient, improve value for customers and deliver a better working environment for employees.
Rolls-Royce East Kilbride managing director, Alex McMillan, said: "This is a positive development for our employees and helps to safeguard jobs.
"Transferring our operations from East Kilbride will enable us to maximise efficiency at the nearby Inchinnan facility, helping us to become even more competitive.
"We will work closely with our employees to ensure that the proposed transition process is managed considerately."
Describing the decision as a "devastating blow", East Kilbride Labour MP Michael McCann, said: "Rolls Royce is part of the fabric of our town, and, most importantly, generations of families from East Kilbride have provided the workforce that has made a huge contribution to the company's success.
"I am extremely angry at this proposed move and I know that every member of the workforce will be as furious as I am.
"East Kilbride has backed Rolls Royce, but it appears that Rolls Royce doesn't want to back East Kilbride.
Local SNP MSP Linda Fabiani, added: "It's the expertise of the East Kilbride workforce which helped to secure major work for Scotland in recent times, despite global competition.
"I spoke with the management earlier today, and, whilst I welcome their commitment to maintain all of the workforce by moving to the Inchinnan site, we have to recognise that for some people commuting will be difficult, and obviously, given travel time, they have to ensure that this move is logistically possible for their workers."
Tam Mitchell, of the Unite union, said there was a feeling of "devastation" in East Kilbride.
'Job Security'
He said: "We welcome the job security, however, there was a lot of emotion on the site, because the majority of the workforce live within a five-mile radius of the plant.
"It is a big upheaval for people to be travelling with a round trip of about 40 miles a day."
Mr Mitchell said some of the employees at the East Kilbride site were third-generation workers.
He added: "Manufacturing in East Kilbride has all but disappeared.
"This week, they've started knocking down the Motorola factory, which closed five years ago, and East Kilbride was the only major manufacturing plant left - it's devastating for the town."
Rolls-Royce employs more than 2,100 people in Scotland, including its operation at Inchinnan, which makes manufacturing components for the civil, defence, energy and marine sectors.
The company said more than £85m had been invested at the plant to bring it to modern standards.
The East Kilbride plant first opened to service engines during the Korean War.
More recently, Rolls-Royce said demand the services offered at its East Kilbride plant had reduced, leading to job cuts in the last few years.