Scots Jobcentre staff in UK-wide strike over conditions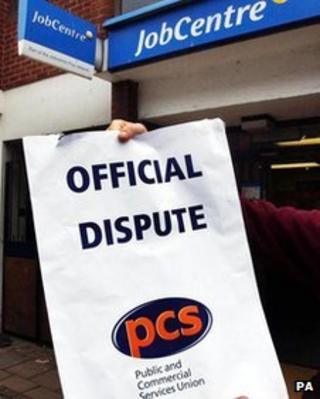 Jobcentre staff who deal with benefits enquiries at call centres in Scotland are on strike over working conditions.
Staff at centres in Dundee, Glasgow and Paisley have joined UK-wide action by more than 6,000 members of the Public and Commercial Services (PCS) union.
The union claims Department for Work and Pensions (DWP) staff struggle with staff shortages, "oppressive working conditions and unrealistic targets".
The DWP said the "unnecessary" strike would have "limited" impact.
The DWP announced a revamp of its telephone and benefit processing service in October 2009.
Staff in Scotland took part in a 48-hour walkout in January after a decision to convert seven benefit processing offices into "contact centres", with staff re-allocated to taking calls from the public.
Since then the dispute has broadened to include staff at 32 sites across the UK.
'Draconian targets'
PCS Scotland spokesman Derek Thomson said: "Not only do these attacks on conditions impact directly on PCS members but they also have a negative impact on the service that they provide to vulnerable people who rely on these services every day.
"Our members want to provide a good efficient and reliable service but are prevented from doing so by a target driven employer who is more interested in draconian and unrealistic targets than any respect for the people who rely on these."
The union said some flexibility had been introduced to the targets allowed for call handling times but these had been set at arbitrary levels "that, worryingly, favour shorter calls over ones that might take a bit longer".
The union said this appeared to "confirm fears that Jobcentre bosses are only interested in getting claimants off the phone rather than dealing with their enquiries properly".
A DWP spokesman said: "We are disappointed that some staff are taking industrial action which we think is unnecessary. We have gone to great lengths to resolve issues with unions.
"Jobcentres and benefit payments will be unaffected and claimants will be able to access some information online, so any impact will be limited."