Inquiry after poison kills three cats in Newmilns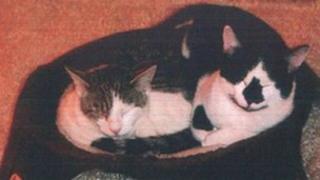 An animal charity is investigating the deaths of three cats which were poisoned in East Ayrshire.
The Scottish SPCA said one of the animals died in Newmilns in March, with the other two being found dead in July.
Post-mortem examinations revealed that all three cats had a poisonous substance in their bodies.
The charity said the poison was likely mixed with meat to appeal to the cats, which were "subjected to horrendous suffering and a painful death".
The Scottish SPCA's Ch Supt Mike Flynn said: "These incidents are deeply concerning and very distressing for the owner.
"Unfortunately, we are looking at the distinct possibility these poisonings were deliberate and malicious.
"This substance is also fatal if ingested by humans, which is extremely concerning, and we would urge anyone with information to come forward, even anonymously, as soon as possible."
Ch Supt Flynn urged pet owners in the area "to be aware of the potential danger and to remain vigilant".
Anyone with information about the incidents is urged to contact the Scottish SPCA.