Strathclyde Police 'may cut' public access to stations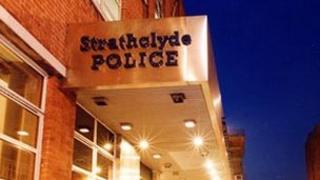 Scotland's largest police force is considering cutting the number of hours that local stations can be accessed by the public.
Strathclyde Police have launched a review of current arrangements which vary across the force area.
It aims to introduce standard corporate opening hours and redeploy staff to areas where public demand was greater.
The force said more people were using telephone, internet or social media rather than attending a police station.
Dep Ch Con Campbell Corrigan said: "It makes no sense to staff front counters if the public are not using them.
"It means we'll be able to free up staff and officers to address what the public really want and expect of us in their communities.
"This review will establish corporate opening hours and ensure our resources continue to be accessible to the public."
Strathclyde Police said that all offices would "remain as operational bases" for officers and there would be no reductions in officer numbers working in local communities.
The force said no changes to current arrangements would be made until the findings of the review were considered by Strathclyde Police Authority.
The authority's convener Councillor Philip Braat said: "The Police authority supports efforts to ensure our police staff and officers are being used to their full capacity.
"However, it is imperative that any changes are made in full consultation with communities.
"That is why I am asking the police to engage with all elected members, the local media and community councils as a matter of urgency."
People wishing to respond to the review can do so through the Strathclyde Police website.