DNA sample snares double rapist Peter Hendry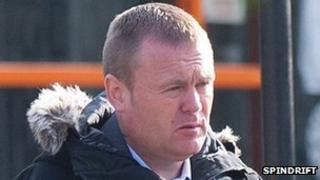 A man has been convicted of two rapes in South Lanarkshire after his DNA was taken over alleged domestic abuse.
Peter Hendry, 41, attacked the two women, who were working as prostitutes, at a quiet industrial site in Seath Road, Rutherglen, in 2004 and 2007.
He was caught after a former partner reported him in 2011 over alleged domestic abuse.
His DNA was later matched to both victims. Sentence on Hendry, from Springburn, Glasgow, was deferred.
The High Court in Glasgow heard how Hendry attacked his first victim on 18 September 2004.
'Bit of trash'
He picked up the 33-year-old woman in Glasgow's east-end and took her to the site in Rutherglen.
The woman told how Hendry pinned her down, raped her and then abandoned her "like a bit of trash".
The incident was reported to police but Hendry managed to evade capture and struck again on 27 July 2007.
On this occasion, a 29-year-old woman got into Hendry's car after chatting to him close to Glasgow Green.
He drove her to the same industrial estate in Rutherglen before raping her and leaving.
Police investigating both cases got a break-through in 2011 after Hendry was allegedly involved in a domestic abuse incident with a former partner.
His DNA was taken by officers and the Scottish Police DNA database found it matched that found on the two rape victims.
Hendry was arrested and later claimed in evidence that both sexual encounters had been consensual.
Following his conviction, Hendry was placed on the sex offenders register.
Temporary judge Kenneth MacIver remanded him in custody and deferred sentencing until September at the High Court in Edinburgh.
He told Hendry: "This is a very serious situation that you find yourself in and a custodial sentence is likely."