More trains for Glasgow, Renfrewshire, Ayrshire rush hour services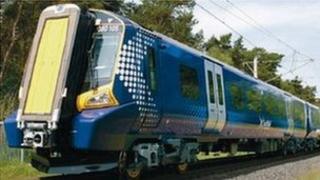 Train operator ScotRail has announced an increase in rush hour services for passengers travelling between Ayrshire, Renfrewshire and Glasgow.
Two extra trains and 500 more seats will be added to morning peak hour services with four extra trains and 500 seats added during evening rush hour.
ScotRail said the new arrangements would begin in December.
It believes this will attract 500,000 more passengers annually - representing a 12% increase on current services.
The train operator is also adding a number of extra trains on off peak services between Ayrshire and Glasgow.
This will see an extra train service every hour at Milliken Park, Howwood, Lochwinnoch, Glengarnock, Dalry, Barassie, Troon, Prestwick Airport, Prestwick Town, Newton on Ayr and Ayr.
An extra two services per hour will be added as Kilwinning and Irvine.
ScotRail's director of business planning Jerry Farquharson said: "The new timetable is carefully designed to encourage more people to use rail throughout Ayrshire and Renfrewshire.
"We are adding services where they are most needed, using a mix of fast and stopping services to reflect journey patterns across the whole area."
ScotRail said it had recruited 12 more drivers and 10 ticket examiners to staff the additional services.