Appeal over ram raid robbery bid at shop in Tollcross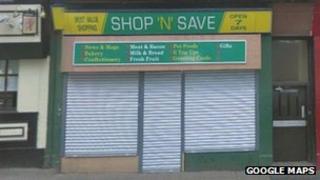 Police are appealing for witnesses over a failed ram raid robbery at a shop in the east end of Glasgow.
Two men with a stolen blue Mazda 6 car reversed into the Shop 'n' Save grocers on Tollcross Road in the early hours of Tuesday morning.
They left empty handed from the shop, which was badly damaged, and abandoned the car in Potter Place.
Police have established the car was stolen weeks before and had number plates stolen from another vehicle.
'Significant noise'
Det Insp Allan Burton, of Strathclyde Police, said: "Tollcross Road is a very densely populated area, and is a main route in and out of Glasgow city centre from the east end, therefore, I am hopeful that we may be able to trace potential witnesses.
"The noise created by the impact of the car on the premises would no doubt have been significant, so, I would ask anyone who was disturbed by this noise and who perhaps looked out their window to get in touch with police."
Det Insp Burton said it was possible that the stolen Mazda was parked in front of the shop on Monday and moved in the hours before the attack.
He added: "We are also looking into the possibility that the two men were working with others, who may have had access to another car."
"I would urge anyone with information to contact officers."