Christopher Grenfell 'admitted' James Simpson car death role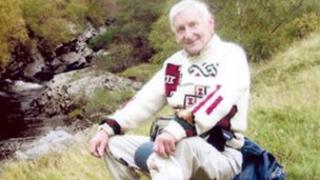 A man accused of murdering a pensioner with his own car told a friend that he reversed over the OAP, a court heard.
Neil Loggie, 33, told the High Court in Glasgow that Christopher Grenfell made the admission after he picked him up in Crossford, South Lanarkshire.
That was where James Simpson's Land Rover was found after allegedly being stolen from outside his home in Ashgill on 29 November 2011.
Mr Grenfell, 25, denies murdering the 76-year-old during the theft.
Mr Loggie told the court that he had picked up Mr Grenfell and another man, William MacVicar, from Crossford.
Mr MacVicar - who does not face the murder allegation - is accused of acting with Mr Grenfell and others to conspire to carry out car thefts.
It is alleged that they broke into Mr Simpson's home and stole a set of keys before taking the Land Rover.
Driven away
Mr Grenfell and Mr MacVicar, 24, are also charged with attempting to defeat the ends of justice.
Mr Loggie recalled that after he picked both men up these was chat about a vehicle being stolen and that Mr Grenfell said somebody was hit and had been run over.
Prosecutor Andrew Stewart QC asked were any details given.
Mr Loggie replied: "He told me Mr Simpson came out the house, tried to pull him out of the car and he reversed over the top of him."
The advocate depute went on: "Did he say where Mr Simpson was when he drove away?" The witness replied: "He was lying on the ground at the kerb."
Mr Stewart also asked: "Did he say if he felt anything?" Mr Loggie said: "He said that he felt a bump."
The prosecutor asked the witness about his reaction to being told what had happened.
Mr Loggie replied: "I thought that it was bad because he had ran over someone and stole someone's car."
'Hard working man'
Mr Grenfell's QC later claimed Mr Loggie had been "complicit" in an "enterprise" to steal Mr Simpson's car.
Ian Duguid, defending, said: "You had identified a Land Rover Discovery which was being stolen to order - to your orders." Mr Loggie denied that was the case.
The witness said he was at court for "justice for Mr Simpson" adding: "A 76 year-old man got killed. A hard working man did not deserve that."
The QC later added: "You knew that the car was a Land Rover because you set up the theft?"
Mr Loggie: "I did not kill or order that car."
The trial, before Judge Lord Burns, continues.