James Simpson murder: Accused offered culpable homicide plea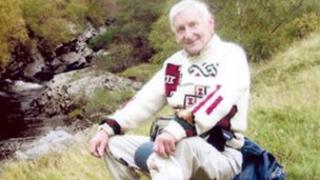 The man accused of murdering a pensioner with his own car offered to plead guilty to the charge of culpable homicide, a court has heard.
James Simpson died while trying to stop the alleged theft of his Land Rover from his home nearby Ashgill in 2011.
Christopher Grenfell, 25, wanted to plead guilty to the lesser charge at an earlier court proceedings before the murder trial, according to his QC.
He denies murder and the trial at the High Court in Glasgow continues.
The jury had heard Mr Grenfell's police interview in which he was questioned by Det Sgt Julie Mullen about the death in South Lanarkshire.
His QC revealed to the court, while cross-examining Det Sgt Mullen, that Mr Grenfell had wanted to accept his responsibility for Mr Simpson's death.
Ian Duguid, defending, said: "Christopher Grenfell, the person you interviewed, has since offered to plead guilty to the charge of culpable homicide at earlier court proceedings prior to this trial."
'Confrontational' interview
Mr Duguid went on to accuse Det Sgt Mullen of being "confrontational" during the interview.
But the police officer replied: "I would not describe myself as confrontational."
Mr Grenfell is accused of driving over Mr Simpson leaving him so seriously injured that he died.
He is joined in the dock by 24 year-old co-accused William MacVicar.
Mr MacVicar, who does not face the murder allegation, is accused of acting with Mr Grenfell and others to conspire to carry out car thefts.
The alleged plot includes a claim that they broke into Mr Simpson's home and stole a set of keys before taking the Land Rover.
The pair are also charged with attempting to defeat the ends of justice.
The trial, before Judge Lord Burns, continues.