James Simpson trial: Christopher Grenfell says death was 'an accident'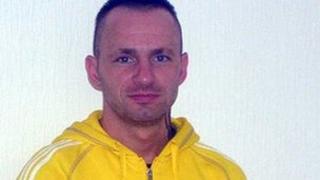 A man accused of murdering a 76-year-old by driving over him with his own car has told a court that he did not set out to kill anybody.
Christopher Grenfell, 25, said he had gone out with the intention of stealing James Simpson's car in Ashgill, South Lanarkshire, on 29 November 2011.
But he told the High Court in Glasgow the death had been an accident.
Mr Grenfell denies murdering Mr Simpson by repeatedly running him over outside his home.
The 25-year-old was giving evidence at the murder trial, and told the jury that he only read about Mr Simpson's death in the newspaper the day after the incident.
He accepted taking Mr Simpson's Land Rover after removing the keys from the pensioner's house.
During cross examination, prosecutor Andrew Stewart QC put to Mr Grenfell that he was responsible for killing someone.
Mr Grenfell replied: "By accident."
The advocate depute said: "I suggest that it was not an accident - it was murder."
The accused said: "I would not murder anyone."
Mr Grenfell earlier claimed he had stolen the 4x4 on the orders of Neil Loggie. Mr Loggie previously gave evidence in the trial and denied being involved in any theft.
Ian Duguid QC, defending, asked: "You said that it was Neil Loggie's enterprise. Did you know what he was going to do with the car?"
Mr Grenfell replied: "Sell it on - it was already sold before it was stolen."
The court heard Mr Grenfell smashed a window with a rock, snatched the keys and jumped into the vehicle. He recalled being in the driver's seat as Mr Simpson tried to pull him out.
Mr Grenfell said the victim fell because he was "side-stepping and just lost his footing".
Heard screaming
He told the court he looked out the open door and did not see Mr Simpson. He said he heard screaming before driving away from the scene as he had "panicked".
Grenfell's QC Ian Duguid said: "One account we have heard is that the car was driven three to four car lengths up the road, stopped then reversed back down and it has gone back over Mr Simpson?"
Mr Grenfell said: "That is not correct - that did not happen". He insisted the "main priority" was to "get the car and get away".
The QC asked: "Did you set out to kill Mr Simpson?" Mr Grenfell said: "No, never."
Earlier, the accused was told he no longer faces charges of conspiracy and attempting to defeat the ends of justice.
Co-accused William MacVicar, 24, who does not face the murder allegation, is accused of stealing the car.
The trial, before Lord Burns, continues.