James Simpson trial: Christopher Grenfell 'not murderer'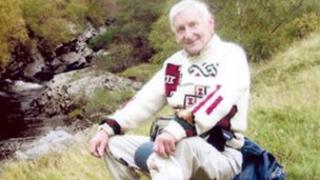 A man accused of murdering a pensioner with his own car should instead be found guilty of culpable homicide, a court has been told.
Ian Duguid QC said Christopher Grenfell could not be convicted of murder if no evidence was present of an assault against 76-year-old James Simpson.
Mr Grenfell claims the OAP fell under his car outside his home in Ashgill, South Lanarkshire, on 29 November 2011.
The trial at the High Court in Glasgow, before Lord Burns, continues.
Mr Duguid QC addressed the court during his closing speech in Mr Grenfell's defence.
Screams heard
The 25-year-old is alleged to have murdered Mr Simpson outside his home while the pensioner tried to stop his Land Rover Discovery from being taken.
Mr Grenfell has claimed in evidence during the trial that Mr Simpson fell while trying to prevent his 4x4 being stolen.
He told the court previously that he looked out of the open door of the vehicle and did not see the OAP before driving off after hearing screams.
On Tuesday, Mr Duguid said to the jury: "How can he (Mr Grenfell) commit an assault if he does not know where the man is?"
The court heard again how Mr Grenfell had previously offered to plead guilty to the culpable homicide of Mr Simpson.
Mr Duguid said to convict his client of the lesser allegation was "not the easy option".
The QC added: "Don't think you are letting him out - it is still a very serious charge."
He went on: "However, that is the charge that is consistent with the evidence in this case. He is responsible for the man's death, but it is not murder."
Mr Grenfell is joined in the dock by 24-year-old William MacVicar, who faces one charge of being involved in the theft of the Land Rover.
Mr MacVicar's advocate, Tony Graham, asked the jury to convict him of the lesser charge of reset.
Judge Lord Burns will deliver his directions to the jury on Wednesday. The trial continues.