Deer found hanged from tree near Ayr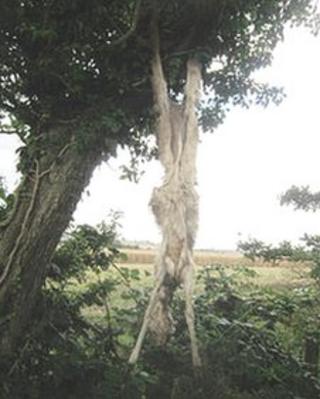 An animal charity believes that a deer whose carcass was found hanging from a tree near Ayr may have been killed as part of a "sickening blood sport".
The roe deer was found by a member of the public in a field at Millview, Mainholm, on Saturday 25 August.
It had been suspended 9ft in the air by positioning its broken hind leg around a branch. Its ears and a large section of its face were also missing.
The Scottish SPCA believe it may have been killed during illegal coursing.
The charity's Ch Sup Mike Flynn described the discovery of the deer as "very suspicious and deeply concerning".
"It's likely the deer was already dead when it was hung up as this would have been extremely difficult to do while it was still alive," he said.
Malicious motive
"The average weight of a roe deer is around 10-25kg so it would have been possible for an adult acting alone to have lifted the deer up to hang it from the tree.
"It has started to decompose but we don't think it has been there any longer than two weeks."
Ch Sup Flynn said that while the cause of death was unclear, he had "no doubt that this animal was suspended from the tree out of malice".
He said: "The first few inches of the deer's face are missing, as are its ears, which may be because other animals have been feeding off it.
"However, we also have to look at the distinct possibility this deer was injured and killed as a result of the barbaric practice of coursing.
"The motive for this sickening blood sport appears to be little more than the pursuit of some sort of thrill or pleasure from hunting an animal down and watching it being mauled to death by a dog."
Ch Sup Flynn asked anyone who had witnessed deer coursing, or suspected anyone of being involved, to get in touch.
He added: "Information such as a vehicle registration is extremely useful and can help us track down the perpetrators of this cruel and mindless activity."
The Scottish SPCA said that anyone found guilty of hunting with dogs could face up to six months in prison, a £5,000 fine, or both.