Christopher Grenfell jailed for life for James Simpson murder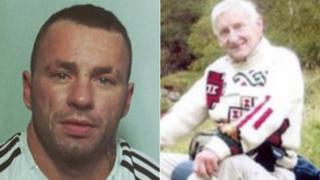 A car thief has been jailed for life after being convicted of murdering a 76-year-old man by running him over with his own car outside his home.
Christopher Grenfell claimed the death of James Simpson, on 29 November 2011, was accidental and his lawyers sought a verdict of culpable homicide.
But a jury convicted Grenfell of murder after hearing how he reversed over Mr Simpson at Ashgill in Lanarkshire.
At the High Court in Glasgow, Grenfell was jailed for a minimum of 17 years.
It emerged Grenfell, of Larkhall, South Lanarkshire, has a string of convictions for road traffic offences.
The 25-year-old was convicted of dangerous driving just months before the murder and was also banned from the road at the time.
Grenfell was jailed in 2010 for the reset of a stolen Nissan Qashqai and has a further conviction for assaulting a prison officer while behind bars.
Jailing him, judge Lord Burns told Grenfell that he "deliberately" used Mr Simpson's car to "inflict fatal and devastating" injuries.
The judge went on: "You fled the scene of this crime knowing that this elderly man must have been gravely injured and abandoned the car and threw away the keys.
"Your actions against him were deplorable and motivated by greed.
"No doubt they were also done in panic since you cannot have expected Mr Simpson to put up such vigorous resistance to your plan."
The judge called Grenfell "a menace on the road" and banned him from driving for life.
Family trauma
Following Grenfell's conviction, Mr Simpson's son Jamie paid tribute to his father, who he described as "a man filled with passion and compassion in equal measures" who had "a strong sense of right and wrong".
He said Grenfell's actions had not only killed his father but "left his wife absolutely devastated" and a "shattered, nervous and lonely widow".
Co-accused William MacVicar, 24, who did not face the murder charge, was convicted of car theft, but admonished due to the time spent on remand.
During the trial, the court heard how the men stole Mr Simpson's 4x4 Land Rover Discovery from his driveway.
Mrs Simpson told the jury how her husband ran downstairs and tried to stop the theft.
She described how he opened the driver's door while she shouted at her husband to "come back and leave it".
Mrs Simpson said: "A great relief went through me when I saw the car then going up the road. I was then very astonished when the car stopped suddenly and I went into despair when it reversed back to where it had been."
Mrs Simpson said she remembered her husband was "whirled around and around".
She told the trial: "I shouted stop, but no-one was listening."
The court heard the Land Rover "went like a bullet" away from the scene before Mrs Simpson went to her husband's aid.
The court also heard from the Simpsons' neighbour, retired GP Dr Donald Hopkins.
Pulse weakening
The 76-year-old ran out to help after hearing a bump and hearing a woman scream.
He said that there was a body lying on the road and that even though it was his neighbour, he did not recognise him.
Dr Hopkins said the man's face was covered in blood and he tried to keep his airways open.
He added: "His pulse was steadily getting weaker and weaker and he was breathing less. And I thought I was going to lose him.
"About two or three minutes before the police arrived, he died."
The court was told by pathologist Dr Julia Bell that Mr Simpson sustained "unsurvivable crushing injuries" during the incident.
These included multiple rib fractures, collapsed lungs and his spine being broken in two places.
Dr Bell told the court Mr Simpson would have been unable to breathe.
Another witness, 33-year-old Neil Loggie, told the court how he had picked Grenfell up in Crossford, South Lanarkshire, after the theft.
He said: "He (Grenfell) told me Mr Simpson came out the house, tried to pull him out of the car and he reversed over the top of him."
Giving evidence, Grenfell admitted stealing Mr Simpson's car but claimed the death had been an "accident".
He offered to plead guilty to the lesser charge of culpable homicide, but this was rejected by the Crown.
A jury convicted Grenfell of murdering Mr Simpson by majority verdict.