Joseph Ramage jailed for Carron Valley Reservoir body murder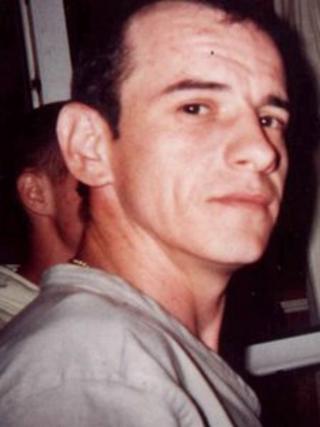 A man who was convicted of murdering his 34-year-old neighbour and dumping his body near a reservoir in Stirlingshire has been jailed for life.
Joseph Ramage, 39, killed Stewart Barrett at his home in Kirkintilloch, East Dunbartonshire, in November 2011.
He later dumped his body in woods at Carron Valley Reservoir, near Fintry.
Ramage was jailed for a minimum of 16 years at the High Court in Glasgow. Paul McManus, 33, was jailed for five years for helping to conceal the body.
Temporary judge Sean Murphy QC told Ramage: "Mr Barrett died as the result of blunt force trauma to his head.
"You admitted striking him with a bottle. It must have been obvious he was seriously injured when he was ejected from the house.
"Death was inevitable with the fractures he suffered, but no attempt was made to seek medical attention for him."
The judge said the crime had not been "planned and premeditated" as Mr Barrett had initially been a guest in his house.
But he told Ramage that he and McManus "went to considerable lengths to conceal what you did".
The judge told McManus that concealing Mr Barrett's body in the wood was "cruel and callous" and added that it would have caused distress to the victim's family and friends.
As Ramage was led away to begin his sentence, members of Mr Barrett's family, sitting in the public gallery, shouted at him: "Hope you rot in hell."
Ramage was earlier convicted of murder and attempting to defeat the ends of justice following a trial at the High Court in Glasgow.
The court heard that former factory worker Mr Barrett, a father of three, had been a guest in Ramage's home when there was an altercation between the two men.
Ramage hit Mr Barrett over the head with a bottle, fracturing his skull and causing massive bleeding.
Instead of calling the emergency services, he bundled the dying man up in a carpet and enlisted the held of his friend Paul McManus to help dispose of the body.
Bloodstained carpeting
Mr Barrett's body was then dumped in woods near to Carron Valley reservoir, where it was found by a dog walker.
After disposing of the body Ramage, with the help of McManus, then spent two days re-decorating the living room and hallway of his house.
When police arrived to speak to them they were in the process of disposing of bloodstained carpeting.
After trial Ramage was convicted of murdering Mr Barrett and attempting to defeat the ends of justice.
It emerged after the verdict that he had previous convictions for assault.
McManus was cleared of murder, but convicted of helping Ramage cover up the murder.