Riverside and Summerlee museums mark Glasgow last tram anniversary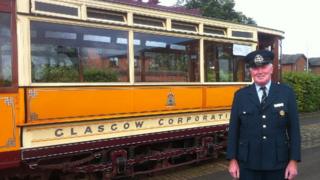 Events are being held to mark the 50th anniversary of the last public tram service in Glasgow.
The Riverside Museum in Glasgow, which houses the city's transport collection, has put its newly-refurbished 1938 Coronation Tram back on display.
The occasion is also being marked at Summerlee Museum in Coatbridge in North Lanarkshire - which operates Scotland's only electric tramway.
Glasgow's last tram ran on 4 September 1962 - ending 90 years of services.
About 250,000 people are estimated to have watched the last tram procession in the city.
Final destination
The final destination on that day was the Coplawhill Tramworks in Pollokshields, which two years later became the city's first transport museum.
The refurbished 1938 Coronation Tram, was put back on display at the Riverside Museum on Tuesday.
A special "last tram procession" feature is also on display, telling the stories of people who witnessed the event.
Visitors can also learn about Robert Cooper who was the motorman for the last tram 1089.
Councillor Archie Graham, chair of Glasgow Life, said: "The last tram procession was a celebration of Glasgow's rich transport heritage which was shared by so many people and the introduction of the Coronation Tram to the Riverside Museum is the perfect way to celebrate the anniversary.
"Visitors will once again be able to climb on board and experience what journeys by tram were like."
A series of events are also being held at Summerlee Museum to mark the anniversary.
The venue operates Scotland's only operational electric tramway, including a former Glasgow Corporation tram, number 1017.
Summerlee manager, Laura Eales, said: "Our trams are an integral part of Summerlee and provide a fascinating insight into this once familiar mode of transport.
"We look forward to marking the 50th anniversary of this historic transport event."