Life terms for men who murdered William Faulds at Hogganfield Park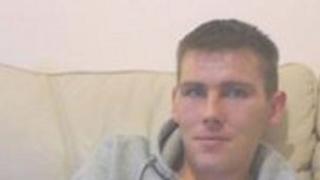 Three men have been jailed for life after being convicted of a brutal murder at a bonfire night gathering in a Glasgow park.
Steven Evans, 28, Christopher Harrison, 20, and 16-year-old Daniel Harrison stabbed William Faulds 10 times at Hogganfield Park on 5 November 2011.
The attack, in Ruchazie, almost sliced the 31-year-old victim's heart in two.
Evans and Christopher Harrison were given a minimum of 18 years. Daniel Harrison must serve at least 15 years.
Jailing the men at the High Court in Glasgow, judge Lord Bonomy told them: "For reasons which did not emerge, you three decided to arm and disguise yourself to attack Billy Faulds."
'Overwhelming force'
The judge said it was "the deliberate killing of another human being".
He went on: "You took him by surprise and such was the overwhelming force, he was quickly rendered helpless.
"The violence of the attack was such that his heart was almost sliced in two and he was dead in minutes."
During the men's trial, the court was told Evans had been at the bonfire gathering with his partner and two children before leaving and going to a house with cousins Christopher and Daniel Harrison for something to eat.
The men then returned to the bonfire night with their faces covered and launched the attack - with another person - on Mr Faulds.
Earlier that night Christopher Harrison had offered Mr Faulds' friend William Bendoris £1,000 to slash him.
Mr Bendoris and another man, William Lindsay, saw the men as they ran across the park towards Mr Faulds, who was standing with his friends.
Mr Bendoris told how he heard girls screaming and saw Mr Faulds with Evans, and the Harrison cousins on top of him.
He ran over and kicked one of them in an attempt to get them off and recognised Christopher and Daniel Harrison.
Mr Lindsay told the jury he recognised all three men as they attacked Mr Faulds.
Lying to police
He said his friend "looked lifeless" when he saw him immediately after the attack.
Pathologists said the victim, who was known as Billy, had his heart almost sliced in two as knife blows rained down on him.
The court was told Mr Faulds suffered a massive loss of blood and he may have been dead before he hit the ground.
Jurors heard how the attackers then each tried to cover their tracks by lying to police.
In his interview with officers, Evans told them he was in bed by 23:00 and answered with "no comment" when asked further questions.
He did not tell them he had gone out with Christopher Harrison in friend Kieran Higgins' car.
Harrison said he had gone out with his friend alone and they went for a drive.
Mr Higgins, however, said he picked them both up from Harrison's house and they were talking about what they had done.
Christopher Harrison bragged they had "gave him it" and told Evans that it would be okay.
He told Mr Higgins they had stabbed a man named Billy and that he did not know him. Evans also commented they were going to "get done for it".
Daniel Harrison claimed he went to another house with a relative, when in fact he was part of the attack.
'Brutally murdered'
He was spotted by a friend not long after the attack took place near the scene, wearing the same tracksuit he was seen in earlier.
Following sentencing, the victim's partner, Michelle Fraser, said outside court that the jail terms should have been longer.
The 30-year-old, who has a one-year old daughter to Mr Faulds, said: "They are cowardly animals, but no words can really properly describe what they done to Billy.
"I think they should have got more for what happened. Billy was brutally murdered."
It emerged after the trial that Mr Faulds' older brother David was also killed in the mid-1990s as a result of a knife attack.
Mr Faulds' cousin Marie Gallacher also said outside court: "Billy's mum has been left without two kids now. It is shocking what has gone on and so sad."