Salmond's Alasdair Gray Christmas card artwork sold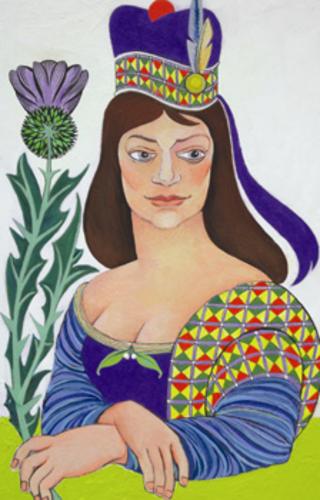 The artwork from First Minister Alex Salmond's 2011 Christmas card has been sold at auction for charity.
Bella Caledonia, by renowned Glasgow artist Alasdair Gray, went under the hammer at the city's Great Western Auctions. It was sold for £4,800.
Children's hospice Chas, aid agency Sciaf, Glenachulish Preservation Trust and Small Tribes Trust will benefit.
Bella Caledonia is a painting from an image in Gray's ceiling mural at Glasgow's Oran Mor venue.
Mr Salmond said: "I am absolutely thrilled that the artwork from my 2011 Christmas card has once again raised such a substantial figure for four extremely deserving charities.
"Painted by Alasdair Gray - one of Scotland's most iconic artists - Bella Caledonia is an entirely appropriate figure to help benefit such good causes given she has been described by the artist as a strong woman with a passion for social justice."
Sales of artwork from the first minister's Christmas cards since 2007 have raised more than £131,000 for charities.
Before the sale, auctioneer Anita Manning said: "Alasdair Gray is a Scottish artist of international repute, whose paintings, books, murals and plays have portrayed the lives and people of Scotland in our times."
"Bella Caledonia is an iconic work by this artist. She appears to be an enigmatic figure, but Bella Caledonia is an independent, free-spirited woman with an enquiring mind and a strong sense of social justice and Alasdair has captured all of these qualities in this painting."