William Doyle jailed for life for murdering Mark Shaw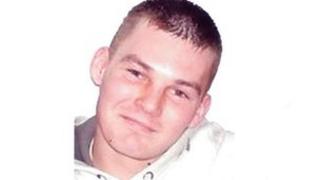 A man who brutally murdered a partygoer in North Lanarkshire after a perceived slight has been jailed for life.
William Doyle, 39, clashed with Mark Shaw during the party in Bellshill on 4 December 2011 after comments were made about Mr Shaw's family.
The High Court in Glasgow heard how Doyle then left the party and returned wearing a balaclava and stabbed 21-year-old Mr Shaw through the heart.
Judge Lord Drummond-Young ordered Doyle to serve a minimum of 20 years in jail.
The court heard that Doyle and Mr Shaw had clashed at the party despite never having met before.
Doyle recognised
Doyle left and returned to the party in Mary Rae Road, Bellshill, armed with a knife and shouted for Mr Shaw to come outside.
In evidence veterinary nurse Lisa Lauchlan, 28, told the court that she recognised Doyle by the jeans he had been wearing earlier that night.
She said the former chef came up to her and told her that Mr Shaw had "disrespected" him.
The court heard that she saw Mr Shaw using a garden rake to try to fend off Doyle.
Mr Shaw then ran off pursued by Doyle. Miss Lauchlan said she walked up to where they had gone and found Mr Shaw lying on the ground dying.
Doyle stabbed the 21-year-old in the side. The knife pierced his heart and he bled to death.
In evidence, Doyle claimed he was an innocent victim, that Mr Shaw had had the knife and he had disarmed him.
The jury did not believe him, however, and convicted Doyle of murder by a unanimous verdict.
Jailing him, Lord Drummond-Young told Doyle: "It is quite clear that you chose to go back to where Mark Shaw was, having armed yourself with a knife and put a balaclava over your head.
"It is obvious that your intention was to carry out a very serious attack with a knife.
"This sadly had fatal consequences and has had a devastating effect on his family."
'Shocking crime'
It emerged following Doyle's conviction, that he has a string of convictions for serious assault dating back to when he was a teenager.
Doyle was most recently jailed for two years in 2004. He was also sentenced to three years in 2002.
Lord Drummond-Young added: "You have serious previous convictions - you are well used to using violence if that suits your ends."
Following the case, procurator fiscal for Hamilton, Liam Murphy, said: "This is another shocking example of knife crime leading to loss of a young life in Lanarkshire.
"William Doyle used a knife to attack Mark Shaw during a drunken fight, stabbing the 21-year-old through the heart.
"The carrying and use of knives is absolutely unacceptable in our society. Anyone caught with a knife, whether they have used it or not, will be subject to the full force of the law. Knife crime will not be tolerated."