Former prisons inspector Clive Fairweather dies aged 68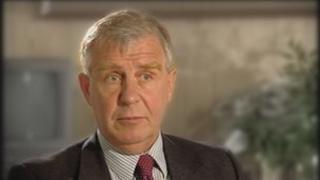 Scotland's former chief inspector of prisons, Clive Fairweather, has died at the age of 68 after a short illness.
He had a long military career, joining the King's Own Scottish Borderers (KOSB) as a private soldier before rising to be colonel.
Mr Fairweather also commanded one of the SAS teams which recaptured the Iranian embassy in 1980 after terrorists had held staff hostage.
He was passionate about prison reform, particularly for women offenders.
And reflecting his Army background, he was chief fundraiser for the ex-service charity, Combat Stress.
One of his proudest moments was leading his battalion, with bayonets fixed, on a march in 1989 up Edinburgh's Royal Mile.
They were exercising their rights as honorary freemen of the city.
Clive Fairweather helicoptered his men into Holyrood Park to join the march in combat fatigues.
The march replicated one 300 years earlier when the regiment had been recruited to defend Edinburgh against the Jacobites.
Brigadier Allan Alstead, a former comrade and a close friend, said his qualities as an officer were well recognised.
"He was held in enormous regard by the men he commanded, and by every level of rank underneath him," he said.
"The private soldiers adored him and thought he was a great leader.
"He was a motivational leader, and a man who could take people forward and do things that they didn't want to do, and do them very well."
First Minister Alex Salmond sent his sympathies to Mr Fairweather's family and friends.
He said: "I got to know Clive well as Chief Inspector of Prisons through our joint interest in supporting the pioneering prison regime at Peterhead which was then under threat of closure.
"He had a fund of extra-ordinary stories about his time in the SAS, was always excellent company and worked hard for the public good in Scotland.
"As Chief Inspector of Prisons he brought to the job a unique combination of humanity and common sense which demonstrated how an enlightened prison regime would operate in the public interest. I will very much miss his contribution to Scottish public life."
These leadership qualities were recognised by the SAS - and Clive Fairweather commanded one of the teams which recaptured the Iranian embassy in 1980 after terrorists had held staff hostage, killing one of them.
Prison reform
It was also rumoured - although it turned out to be untrue - that he led the SAS operation to end the siege at Peterhead Prison in 1987 and free an officer held by the inmates.
So it was an irony that he should be appointed, having left the army, as chief inspector of prisons.
But he was passionate about prison reform, in particular improving conditions for female offenders - and he often clashed with ministers.
Former Scottish Office minister Henry McLeish said he regarded Clive Fairweather as a radical reformer.
"He had a great knowledge about the prison service and he actually passionately believed in making big, positive changes to take the service forward," he said.
"He could make people feel uncomfortable. But that was his job, and I respected that as a minister."
In 2002, after eight years as prisons inspector, he joined Airborne Initiative, a military-inspired scheme to jolt young offenders out of crime by providing a meaningful alternative to prison.
Later he became chief of fundraising in Scotland for the charity Combat Stress, helping former service personnel severely damaged by their military experiences.
Trevor Royle, the charity's chairman, said he brought unique qualities to the role.
"He had a tremendous way with the veterans. They need a lot of help, advice and above all they need understanding - and compassion," he said.
"Clive had all these qualities. And of course the other thing that was absolutely terrific; they looked up to him immensely.
"They respected him, not just because he was an SAS commander, but because he'd commanded an infantry battalion, and he knew exactly what men were looking for."
Scottish Conservative leader Ruth Davidson said: "As a decorated Army officer, Clive served with care and distinction and showed the same passion and energy in his role as chief inspector of prisons and through his work with Combat Stress.
"He was a true gentleman, good company and compassionate, and simply liked to get things done."
Scottish Liberal Democrats Willie Rennie said: "He was a compassionate, brave and intelligent military leader who gifted that considerable talent for wider public benefit.
"We are poorer for the loss."
Mr Fairweather died at the Western Infirmary in Edinburgh on Friday. He is survived by his son and daughter.