Programme unveiled for Royal National Mod in Dunoon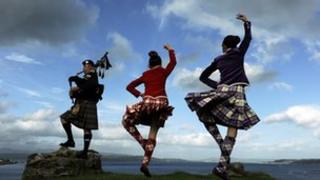 The programme has been unveiled for this year's Royal National Mod, which is being held in Dunoon.
Thousands of participants and visitors are expected at the festival, which celebrates Scotland's Gaelic linguistic and cultural heritage.
Dunoon has hosted the event, now in its 120th year, six times before. It was last held in the town in 2006.
The eight-day celebration - featuring Gaelic music, dance, drama, arts and literature - begins on 12 October.
In addition to the adult competitions, there will also be the annual shinty and football matches, children's contests and a fiddlers' rally.
The final concert takes place on Friday 19 October, to be followed the next day by the grand finale - a parade of the massed choirs through Dunoon town centre, led by local pipe bands.
The Royal National Mod is organised by An Comunn Gàidhealach, the world's oldest Gaelic organisation.
Competitors are expected from across the world.
John Morrison, chief executive of An Comunn Gàidhealach, said: "We are delighted to come back to Dunoon as we always receive such a fantastic welcome from the locals here.
"Having recently played host to the Cowal Highland Games, the people in Dunoon are well versed in accommodating a plethora of dancers, musicians and pipers so we'll be sure to take full advantage of the hospitality throughout our week-long visit."
The Queen is a patron of the Mod's parent body An Comunn Gàidhealach.
Paul Bush, of EventScotland, said: "Scotland is the perfect stage for events, and Dunoon will undoubtedly provide the ideal backdrop to what is one of the country's most iconic events."