Stonelaw High School to reopen after chemical spill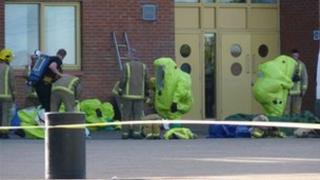 A secondary school in Glasgow's Rutherglen area which was evacuated following reports of a chemical spill, is to reopen on Wednesday.
Strathclyde Fire and Rescue was called to Stonelaw High School at 14:20 after what they believe was a chemical incident in a laboratory.
The incident which was dealt with by fire crews in chemical protective suits.
A member of staff was taken to hospital as a precautionary measure.