Billy Connolly is Glasgow Commonwealth Games ambassador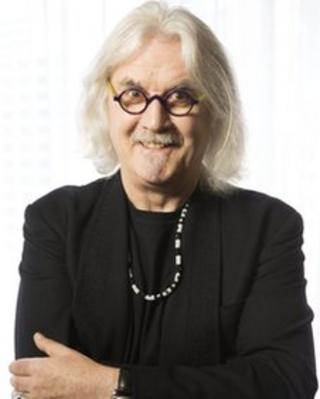 Billy Connolly has been confirmed as the latest star name to become an ambassador for the 2014 Commonwealth Games in Glasgow.
The comedian and actor narrates a special animated film telling the story behind the games official mascot, which will be unveiled on Thursday.
He is the third ambassador to be named and joins cycling great Sir Chris Hoy and swimming legend Rebecca Adlington.
Connolly, a Freeman of Glasgow, said the games would be "a huge success".
Speaking ahead of the mascot launch at BBC Scotland's Glasgow headquarters, Connolly said: "I know that the people of Glasgow will enjoy the Games immensely, the whole of Scotland will.
"We are a nation that welcomes all visitors with a smiling face, the goodwill of Scots will stand forever, we will always have that."
The comedian said he believes that involving young people is key to the success of the games.
'Buzz created'
"There is nothing more important than getting young people involved, without the youth of today creating a momentum behind an event, nothing is taken forward," he said.
"By engaging with children in the design of the mascot, a buzz has been created - you can feel the excitement for the games already."
Connolly also believes that Glasgow 2014 will have no problem recruiting up to 15,000 volunteers required to help stage the games and that the events will be well attended.
He said: "Glasgow is a great city of partakers. We love taking part in everything and for something as big as the Commonwealth Games, people will be coming out in their droves to spectate and volunteer, without question Glasgow 2014 will be a huge success.
"Glaswegians and Scots are great people for turning out and offering support to all individuals and teams - it will be no different in 2014."