Three west of Scotland colleges consult on merger plans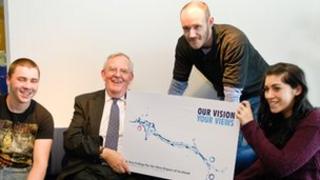 A consultation is under way on plans to create a new west of Scotland super-college with the merger of three further education institutions.
Staff and students at James Watt, Reid Kerr and Clydebank Colleges have until the end of October to make comments on the planned merger.
Views are also being sought from members of the public and employers.
Management boards at the three colleges aim to complete the merger and have the new college open by August 2013.
Michael Yuille, who was appointed chair of the shadow board by the three colleges, said: "Together, we have thought long and hard about what the new college will offer and now it is time for those who will use it to let us know what they think.
"We are also gathering suggestions for a name.
"While we are very likely to retain the local campus titles, it will be important to select an appropriate and meaningful name for the newly formed college and we believe it is right to let those being consulted suggest what that name should be."