Bangers which injured boys in Lanarkshire 'pose significant danger'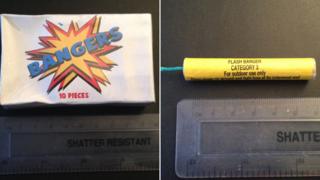 Police investigating two incidents in which children were injured by fireworks have said the bangers involved were counterfeit.
Hundreds of fireworks were recovered from a shed in New Stevenson in North Lanarkshire on Thursday.
A 12-year-old boy and another teenager, 15, suffered burns in separate incidents in Carfin and Motherwell.
Officers have issued images of the bangers and warned that they pose a "significant danger".
Police said up to 1,000 bangers were being stored in a shed in Blackmoore Place in New Stevenston.
A 15-year-old boy was seriously hurt when a banger exploded in his hand in Motherwell on Thursday.
Another boy, 12, suffered superficial burns to his hand after being scorched by the same type of firework.
The fireworks involved in the two incidents were examined by Trading Standards officers, Strathclyde Police and the Forensic Explosive Laboratory.
Police advised members of the public to contact their local police office rather than trying to dispose of the bangers themselves.
Supt John McTear said: "Our primary role is keeping people safe, and as such we are still trying to investigate where these came from.
"We are trying to find out where in Strathclyde they can be bought, and would urge anyone who may have purchased them or have them in their possession to contact police, who will dispose of these safely.
"Please do not put them in your normal household bin as they could be picked up by a young child and could cause them significant injuries."
The fireworks consist of a rolled up paper tube filled with gunpowder and a fuse at the top.
After bangers are lit, they are usually thrown before exploding with a loud bang.