Christie brothers have jail terms cut over Brian Faulds murder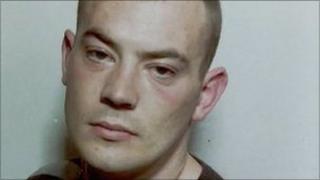 Two brothers who were jailed for life for brutally murdering a man and dumping his burned body near a river have had their minimum jail terms cut.
Paul Christie, 29, and Adam Christie, 27, admitted using axes, a knife and meat cleaver to kill Brian Faulds, 29, at a flat in Glasgow in September 2011.
They were each ordered to serve a minimum of 24 years in prison.
Judges at the Court of Criminal Appeal have now cut that to 21 years before they are eligible to apply for parole.
Paul and Adam Christie pleaded guilty to murdering Mr Faulds during the second day of their trial at the High Court in Edinburgh in July.
'Horrific' violence
Judge Lord Tyre jailed both for life and also imposed concurrent sentences of six years for attempting to defeat the ends of justice.
The judge told the brothers the violence they used had been "horrific", adding: "Only you know why this happened but what is clear is you inflicted at least 30 blows with bladed weapons to the victim's head. The injuries which resulted are truly dreadful."
Both brothers later launched a legal challenge against the sentences at the Court of Criminal Appeal in Edinburgh.
Lord Menzies, sitting with Lord Wheatley, quashed the 24-year prison terms and ordered that the pair should each serve 21 years before they can apply for release on parole.
Lord Menzies said: "This was a vicious crime and one towards the upper end of the scale of such crimes in which only one victim was involved."
He said: "We regard this case as a very serious one. However, it is not as grave as some others which have come before this court which have involved multiple victims or even greater levels of violence and viciousness."
Lord Menzies said the task of a judge in setting the punishment part for an appalling murder was "an extremely difficult and sensitive one".
He said it must be remembered that the effect of the sentence was not that the convicted person would be released at the end of the minimum term. Any decision over release would be taken by the parole board.
Sentence discount
The appeal judges rejected the argument that Lord Tyre should have given the brothers a discount on their sentence for pleading guilty on the second day of their trial and thereby reducing the ordeal for the victim's family.
During the brother's trial, the court heard how both bound Mr Faulds with tape and repeatedly punched and kicked him on the head and body and repeatedly struck him with a knife, cleaver, axes, a hammer and baseball bat.
Their brother Bryan Christie was originally charged with the murder but the Crown accepted his not guilty plea.
All three men admitted attempting to defeat the ends of justice in the wake of the murder between 27 September and 7 October last year.
Bryan Christie was later jailed for four-and-a-half years for his part in the attempted cover-up.
The court heard how all three bound Mr Faulds's body with tape and wrapped it in a blanket and carpet and put a pillowcase over his head.
In a bid to remove traces of blood and body tissue from the scene, wallpaper was removed from walls of the flat, paint applied and bleach poured on walls, floors and surfaces.
The corpse was put in the wheelie bin and moved from the murder scene to an embankment next to the Clyde Walkway where it was taken out of the bin.
An accelerant was applied and the body set on fire. Weapons such as a cleaver and axes were also disposed of.
The court heard that Mr Fauld's burned remains were found by 36-year-old Joseph McQueen at the Clyde Walkway on 28 September.
He called police but had to be taken to hospital suffering from shock.