Asif Rehman and Adel Ishaq jailed for William McKeeney murder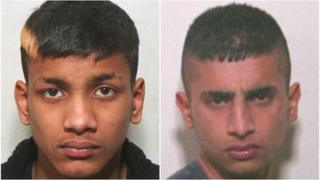 Two men have been jailed for life for brutally murdering a 57-year-old outside his home in Glasgow.
Asif Rehman, 20, and Adel Ishaq, 19, attacked William McKeeney in Melville Street, Pollokshields, on 15 January.
Mr McKeeney, who was originally from Malin Head in Donegal, Ireland, later died at the city's Victoria Infirmary.
At the High Court in Glasgow, Rehman and Ishaq were told they must serve a minimum of 16 years before being eligible for parole.
The pair had denied murder during their trial last month at the High Court in Kilmarnock.
Men stamping
The jury was told that Mr McKeeney was attacked while making his way home from a nearby pub in Glasgow south side.
His partner Annemarie Newlands, 48, said she had been watching out for him from a window of the flat they shared in Melville Street.
She told the court that she had seen "two Asian men stamping on something".
After they left the scene, Ms Newlands said she was able to see a dark shape which she thought was a person.
When she ran outside she realised the dark object was her partner, Mr McKeeney.
She told the court: "He was very battered and the side of his face was all swollen."
The trial also heard from Ishaq's friend, 19-year-old Imran Khan.
He said Rehman had warned him during a phone call that they had just "splattered" someone outside his house.
Jailing Rehman and Ishaq for life, judge Lord Uist told the pair they were a "serious danger to the public".
He said: "It is a shocking indictment of the state of our society that an innocent man should be murdered in a public street, outside his own home, in this manner.
"Senseless violence of this kind must be suppressed."
The judge continued: "For no reason whatsoever he was set upon in the street by you two when he had almost reached his home and subjected to a brutal and merciless attack which robbed him of his life."
The attack, the judge noted, was witnessed by Ms Newlands.
"Such was the ferocity of the violence employed by you that she thought you were breaking up a piece of furniture in the street."
Lord Uist added: "You each walked away leaving him lying in the roadway in a critical condition and callously did nothing to help him.
"It is clear to me that the two of you, having earlier taken drink and drugs, were out that night, roaming the streets of Pollokshields looking for trouble."
The judge also told Rehman that a background report made "grim reading" and noted that his convictions for violence began when he was just 15.
At the time of the attack he was serving a community payback order and was on bail - which added three months to his minimum 16 year sentence.
Ishaq also has convictions for violence.