Medical failures blamed for Judith Laing's death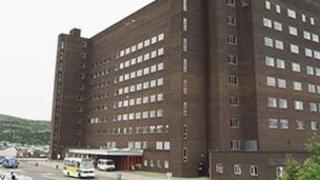 A fatal accident inquiry (FAI) has blamed a catalogue of medical failures for the death of a 65-year-old woman at Inverclyde Royal Hospital.
Judith Laing died on 29 January 2009 following complications from surgery to treat a bowel hernia.
The inquiry heard that despite Mrs Laing falling ill on 30 November 2008, doctors had failed to diagnose her condition.
She underwent surgery on 8 December but died almost two months later from acute respiratory distress syndrome.
The inquiry heard that on 30 November 2008, Mrs Laing, while at her home in Port Glasgow, began vomiting, suffering stomach pain and developed a lump on her groin.
Diagnosis failure
Following calls to NHS 24, she was seen by three GPs until her admission to hospital on 4 December.
In his findings, Sheriff Derek Hamilton noted that none of the GPs who examined Mrs Laing had correctly diagnosed a femoral hernia.
It was also noted that once admitted to hospital, several other medics did not diagnose the condition.
Mrs Laing was finally correctly diagnosed and sent for surgery on 8 December - more than a week after she presented with symptoms.
Despite undergoing surgery, she developed "intra-abdominal infection" which led to "adult respiratory distress syndrome" - the condition from which she died on 29 January 2009.
In his FAI report, Sheriff Hamilton states that Mrs Laing's death "might have been avoided" if a number of "reasonable precautions" had been taken.
The sheriff said Mrs Laing may have lived if she had been sent for immediate surgery following her first GP examination on 1 December 2008 and subsequent dates of 2 and 4 December.
He noted a failure by the "senior reviewer within the medical receiving unit" at the hospital "to have noted the presence of a right sided groin swelling" on Mrs Laing.
Sheriff Hamilton said the doctor should have been noted this and discussed it with a senior colleague or obtained a surgical opinion.
He also pointed out a "consultant on duty within the medical receiving ward" had not read her referral letter which made reference to a swelling in Mrs Laing's groin.
The sheriff noted that no-one had picked up on "the conflict" between the examination notes prepared by one doctor and the admission notes prepared by another.
'System defect'
He also said "the earlier ordering of a CT scan to investigate the location and extent of infection" in Mrs Laing may have helped.
The FAI report also stated "there was a defect in the system of clerking in patients... their subsequent examination and assessment, and the passing on of their care, which contributed to the death of Judith Laing".
Sheriff Hamilton concludes: "Clearly, Mrs Laing's death could have been avoided if her symptoms had been correctly diagnosed earlier.
"It is clear, however, that those treating Mrs Laing were dealing initially with a condition which was unusual, and thereafter with a confusing and conflicting range of results.
"It can be of no comfort to Mrs Laing's family that had different decisions been made, Mrs Laing may well have survived.
"That is not to apportion blame to any one individual, but is simply to state what I understood to be agreed by almost all who gave evidence; that if certain things had been done differently, the outcome would undoubtedly have been different."