Escaped cow captured after causing delays on M8 motorway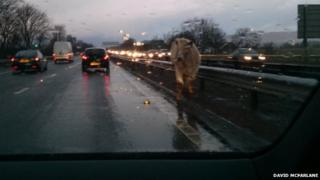 An escaped cow that caused delays during rush hour on the M8 motorway near Glasgow Airport has been captured.
Motorists called police at about 08:10 on Wednesday after spotting the animal near the St James Interchange at J29.
Police and a local farmer eventually captured the cow from behind the barrier on the westbound carriageway.
At the height of the incident, there was a significant delay to westbound traffic with queuing stretching back to J25A near Braehead.