Lotto couple Chris and Colin Weir set up charity trust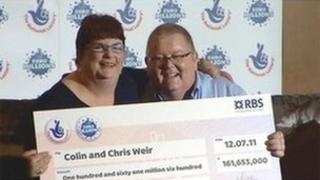 Britain's biggest ever lottery winners have set up a £5m charitable trust to improve quality of life in Scotland.
The Weir Charitable Trust, set up by Chris and Colin Weir, will help fund health, sport, cultural, recreational and animal welfare projects.
It will accept applications four times a year from groups, individuals and charities which provide services.
The Weirs won £161m on the EuroMillions lottery in July 2011 - the largest jackpot won in Europe.
'Good causes'
In a statement, the couple from Largs in North Ayrshire, said: "Since we won the EuroMillions lottery, it has been a privilege to be in a position to provide support where we could.
"But we have been looking at finding a more structured way to share our good fortune on an ongoing basis across Scotland.
"It has taken some time to set up, but we are pleased that the trust will now allow us to do that at a time when good causes in Scotland are struggling."
The first deadline for applications is 7 March. The first batch of awards will be announced in early April.
Trust administrator Lorraine Tait said: "There is no minimum sum to be applied for, we are more concerned that we reach groups, charities and individuals working hard in their communities, without mainstream support, who want to grow or who need funds to continue with their services.
"The main restriction is that the trust will only accept applications from Scottish-based groups or individuals, who will use the money in Scotland."