Football banning order for man who punched rival fan at Hampden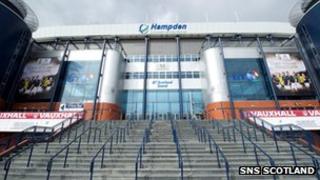 A supporter who punched a rival fan in the face ahead of a Scottish League Cup semi-final last year has been handed a one-year football banning order.
Douglas Harker, 26, from Ayr, was also sentenced to 180 hours of unpaid work for the "unprovoked attack".
He received an additional 100 hours for a previous non-appearance in court.
Last month, Harker had been convicted of the assault outside Hampden Park, Glasgow, for the match between local rivals Ayr United and Kilmarnock.
'Shocking and unacceptable'
The trial at Glasgow Sheriff Court heard that Harker was with a group of fans going to the game when he was confronted by a man wearing the colours of his team's local rivals.
Joe Stewart, football liaison prosecutor for the west of Scotland, said: "Such a totally unprovoked attack is both shocking and unacceptable.
"We have a duty to protect genuine fans from those intent on causing trouble and using football as an excuse for violent disorder.
"Such activity committed by persons who claim to be fans of the game blights the good name of Scottish football and will not be tolerated."
Kilmarnock won the semi-final 1-0, going on to lift the Scottish Communities League Cup by beating Celtic with the same scoreline in the final.