Family rescued from fire at Paisley Road West flats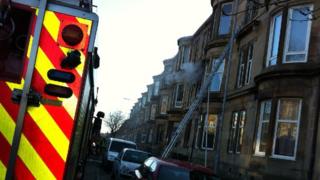 Two adults and a child have been rescued from a house fire in Glasgow.
Emergency services were called to the blaze, in the first floor flat in Paisley Road West, at 09:15.
A man, in his late 30s, is being treated for minor burns to his hands at the Southern General Hospital. The woman and toddler are safe and well.
Two other children in the family were at school at the time. A woman from a neighbouring flat is being treated in hospital for smoke inhalation.
An investigation is under way into the cause of the fire.