Rangers say Orlit claim is not 'legitimate'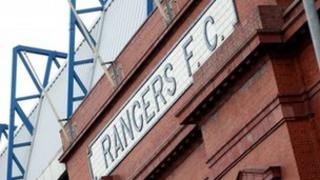 The company which runs Rangers Football Club faces the prospect of a winding-up order over a disputed bill, despite denials from the club.
The disputed amount is thought to be around £400,000.
In a statement Rangers said they were disputing the invoice. It said: "not all of the invoices submitted with regard to this bill are legitimate."
Rangers also said they would defend any legal action brought by Orlit "vigorously".
BBC Scotland understands Orlit Enterprises are considering raising a winding up order against the company which currently runs Rangers within the next seven to 10 days, if the dispute continues.
Orlit Enterprises is run by the Singapore-based businessman Chan Fook Meng. He is a former business associate of the current Rangers chief executive Charles Green.
In a statement on their website, Rangers said they had "been disputing a payment to a foreign company, Orlit, although it should be stressed we have never said there is no bill to be met. What we have said and what we are telling our supporters is that not all of the invoices submitted with regard to this bill are legitimate".
It continued: "There is no threat of this Club being closed. That is downright malicious and ludicrous. But let's make one thing clear: If Orlit wish to instruct their lawyers to go to court then we will defend our position vigorously.
"We do pay our bills on time and we have always been prepared to pay this one."
Business links
Mr Green is a former chairman of Mr Chan's company, Nova Enterprises. That company is also linked to current Rangers finance director Brian Stockbridge, who was an advisor during his time at the stockbrokers Allenby Capital when it was called Tembusu Investments Ltd.
The BBC spoke to Mr Chan from Singapore this morning. He offered no comment on the matter. Nova Enterprises' UK solicitors Pritchard Englefield said they couldn't comment on any of their clients.
Allenby Capital told the BBC their company is not involved in this dispute and they have no interest in Rangers Football Club.
The dispute does not concern the "old-co" RFC 2012 plc which was liquidated after Charles Green's consortium bought the assets of the football club out of administration in 2012.