Lynda Spence trial: Accused men's DNA in 'murder flat'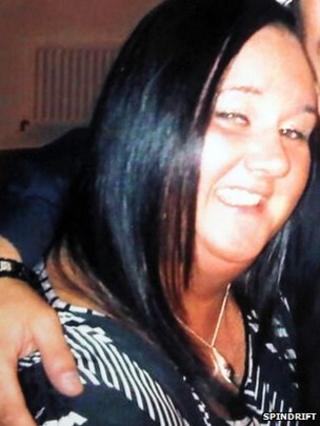 The Lynda Spence murder trial has heard that DNA from two of the accused was found at a flat where the businesswoman was allegedly tortured and killed.
Forensic scientist Dr Nighean Stevenson was giving evidence at the High Court in Glasgow for a second day.
She said a sample taken from flooring at the home of David Parker, 38, contained DNA matching his profile and that of fellow accused Paul Smith, 47.
Mr Parker, Mr Smith, Colin Coats, 42, and Philip Wade, 42, deny murder.
Financial adviser Ms Spence was last seen on 14 April 2011.
The accused are charged with abducting, torturing and murdering the 27-year-old at a flat at Meadowfoot Road, West Kilbride, between 14 and 28 April 2011.
Dr Stevenson, from the Scottish Police Services Authority, examined the flat and took samples from floorboards in the loft conversion space where Ms Spence was allegedly bound to a chair, gagged and tortured.
The witness told the court that several samples taken using sticky tape to pick up skin cells showed a mixture of DNA from two or three individuals.
A match was found for Mr Smith and Mr Parker.
Reading from her report, she said: "DNA from David Parker, Paul Smith and others had been deposited on floorboard B."
Dr Stevenson told the court previously that a small blood stain, found on lino in front of the bath in the flat, matched Ms Spence's DNA.
The trial before Lord Pentland continues.