Lynda Spence trial: Murder accused 'threatened bar owner'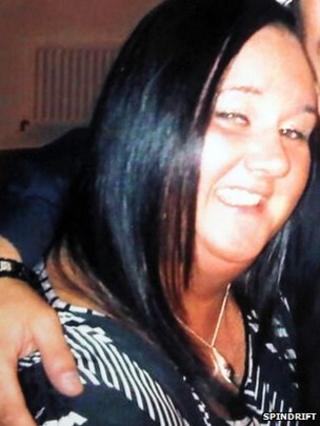 One of the men accused of murdering missing financial adviser Lynda Spence threatened to set fire to a pub in a row over a car, a court has heard.
Former barman Paul Boyle, 24, told the High Court in Glasgow that Colin Coats asked him to pass on the warning to publican Patrick Burns.
The alleged threat was made over a car which Mr Coats had taken from Mr Burns.
Mr Coats, 42, Philip Wade, 42, David Parker, 38, and Paul Smith, 47, deny murdering Ms Spence in April 2011.
All four are accused of abducting, torturing and murdering the 27-year-old at a flat at Meadowfoot Road, West Kilbride, between 14 and 28 April 2011.
Before Mr Boyle gave evidence, the court heard from publican, Mr Burns.
Money claims
The 35-year-old said that Ms Spence owed him rent arrears on the flat where her parents were staying and, when he told her he would have to evict them, she instructed him to meet "a guy who works for me" who would deliver a month's rent.
The witness said Mr Coats gave him £1,200 but about a year later, he demanded "his" money back plus interest and sent him threatening text messages.
At a meeting in May 2011, Mr Coats allegedly took the BMW Series 3 car Mr Burns was driving, which belonged to his brother.
After Mr Burns borrowed money from his sibling's wedding fund to give to Mr Coats, he failed to return the car as promised.
Mr Burns, who said he owned the former BierStube bar and restaurant in the Shawlands area of Glasgow, told the court he did not go to police for "fear of reprisals".
Mr Coats met him at the bar in June 2011 and asked for cash from the till and when he refused "he told me he'd break my legs", the witness said.
A few days later he went to the police, then left the country for "five or six weeks".
Mr Burns said: "I decided I would stay with friends to get away from everything that had just happened."
Angry mood
In his evidence, Mr Boyle, said he worked as a barman at the former BierStube pub in Shawlands.
He told Solicitor General Lesley Thomson QC, prosecuting, that Mr Coats came to the pub on 6 June 2011, with his son and girlfriend and had food and drink on the house.
While Mr Coats was in the pub, the BMW car which he allegedly took from Mr Burns, was driven off by a friend of the bar owner using a spare key.
Mr Boyle, who is now a student, said that Mr Coats left the pub and returned in an aggressive and angry mood.
He said that Mr Coats demanded to speak to Mr Burns and when told he was not there asked who was in charge.
Mr Boyle told the court that he said that he was in charge and Mr Coats asked him to go outside the pub with him.
He said: "He told me that Pat had made a big mistake and he would go to jail which meant the pub would be going up in flames and Pat was in trouble."
Mr Boyle added: "Mr Coats then said: 'Pass the message on,' and left."
Under cross examination by Derek Ogg QC, defending Mr Coats, the witness was asked if Mr Coats had not said he was going to jail because he would miss a bail curfew as the car had been taken, and the student replied: "I don't recall him saying he would miss his curfew."
Mr Ogg then said: "The one thing he didn't say was that the pub was going up in flames," and Mr Boyle said: "He said that."
The trial before judge Lord Pentland continues.