Brothers admit online drug dealing business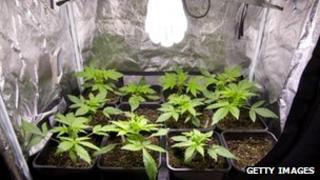 Two brothers have been remanded in custody after admitting to being involved in a lucrative online drug dealing business.
Michael Burns, of Neilston, 27, and Alan Burns, 24, from Dumbarton, supplied users around the world through their illegal mail-order service.
A judge at Glasgow High Court heard how almost £80,000 had been paid into the brothers' bank accounts.
Judge Lord Burns deferred sentence until next month for reports.
The court was told how a website registered to Alan Burns offered for sale cannabis, diazepam and a psychedelic drug known as 2C-B.
Users simply clicked to make a purchase before drugs were packaged and sent through the post.
Their warehouse was at a storage complex in a quiet street in Paisley.
Smelled of cannabis
Strathclyde Police officers tracked the brothers for a number of months as part the Operation Bismark drugs probe.
Prosecutor Kath Harper said: "Both accused were observed by police at Springbank Road Post Office in Paisley sending packages to various addresses both in the UK and abroad."
Miss Harper also told how the pair regularly visited a container park in Abercorn Street, Paisley.
On 9 February last year, mail staff at the sorting office in Springburn, Glasgow, found a parcel that smelled of cannabis.
It was found to have been sent from the Paisley post office intended for an address in London.
Police arrested the pair at the post office, where Michael Burns was caught with seven Jiffy bags holding white powder.
Price lists
Containers at the storage unit were also searched and £34,115 in cash and large quantity of drugs were seized.
This included £16,000 of diazepam, £4,470 of 2C-B and £180 of herbal cannabis, while a 15-tonne hydraulic press was also found.
The home of the brothers' mother was later searched as part of the probe and a small cannabis factory was discovered in a bedroom.
Computer equipment taken during the raids held evidence of drugs price lists and bank details.
Miss Harper said police found more than £42,000 was paid in the account of Alan Burns, with another £35,000 going into his brother's.
Although the brothers admitted a number of drugs charges, not guilty pleas were accepted to possessing a police warrant card, body armour and fleece.