Cloud Atlas has UK premiere at Glasgow Film Festival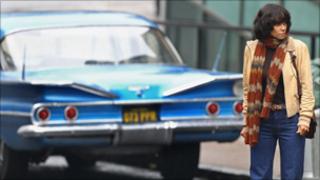 A Hollywood film which was partly shot in Glasgow, has its UK premiere in the city later.
Cloud Atlas, which stars Tom Hanks, Halle Berry, Hugh Grant and Ben Whishaw, is based on the best selling novel by David Mitchell.
Its six related stories span from the 19th Century to a near dystopian and eventual post apocalyptic future.
The premiere at the Glasgow Film Theatre is part of the city's annual film festival.
In September 2011 city centre locations in Glasgow were transformed to replicate 1970s San Francisco.
During filming actress Halle Berry was seen clutching a hot water bottle to keep her hands warm.
The Cloud Atlas screening is one of 57 UK premieres that feature at this year's Glasgow Film Festival.
The event, now in its ninth year, runs from 14-24 February and includes 368 film screenings, panel discussions and live performances.