Mother makes plea over missing son Ross Ramsay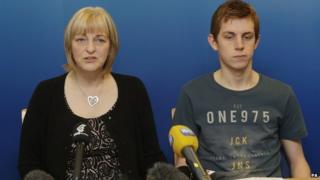 A mother has made an emotional plea for information about her son, who went missing after handing his wallet and phone to reception staff at a casino.
Officers are continuing to search for 30-year-old Ross Ramsay, from Maryhill in Glasgow.
A week after his disappearance, Sandra Ramsay said she was "extremely worried" and urged her son to make contact.
Mrs Ramsay, 56, said: "Ross, we love you very much and miss you dearly. Your family and friends want you home."
She said that, even if he did not feel ready to return, he should "just let us know that you are safe".
Mr Ramsay is considered to be a vulnerable person who requires daily medication for depression and anxiety. Police say he does not have this with him.
Not gambled
He had spent Valentine's Day evening drinking on his own in the Ben Nevis pub on Argyll Street in Glasgow, where he was a regular customer and known to staff.
Mr Ramsay was last seen leaving the Gala Casino on Sauchiehall Street at about midnight.
He is not thought to have gambled in the casino but handed his wallet and phone to reception staff and left the premises, after which the duty manager reported the matter to police.
Mrs Ramsay's younger son, 19-year-old Ryan, joined his mother to send a message to his brother.
He said: "Ross, you know that we will always be here to help and support you - and we love you and miss you."
Police have reviewed CCTV footage and discovered that Mr Ramsay headed west towards Charing Cross after leaving the casino and passed three people on Newton Street in the early hours of 15 February.
Ch Insp Ann Hughes said: "We really need to speak to these people as they may have information that may help with our enquiry.
"Ross wasn't actually in the casino. He attended the casino, handed over some of his property and then left.
"He walked in and left his wallet and his mobile phone.
"Understandably, Ross's family and friends have been left distraught by his disappearance."
Mr Ramsay had been due to start a new job at the National Theatre of Scotland on Monday, but did not turn up for work.
'Increasingly concerned'
Ch Insp Hughes added: "We also know that Ross had had some personal issues in his life prior to him going missing.
"Ross requires daily medication, which we know he does not have with him, and as each day passes we are becoming increasingly concerned for his well-being."
Ch Insp Hughes said that the response from the public to date had been very positive.
The force hopes to gather more information during an operation in the last known locations of Mr Ramsay.
He is described as being slim, 6ft tall and has auburn, shoulder-length straight hair.
He was wearing a grey bomber-style jacket with black lining and hood, light blue bleached jeans that were ripped at the bottom and grey hi-top trainers when he went missing.
His disappearance has been described as "completely out of character".