Rangers 'disappointed' after chanting at Berwick game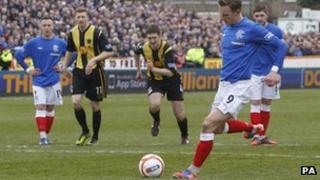 Rangers Football Club has said it is disappointed after what police described as sectarian chanting at the Third Division tie in Berwick.
The club statement was issued while the game was still in progress at Berwick Rangers' Shielfield Park ground.
A Rangers spokesman said: "The club is disappointed by certain outbursts of inappropriate singing by a section of the support at Berwick."
Northumbria Constabulary said there had been two arrests over sectarian chants.
Officers added that further video footage was being reviewed.
The game ended as a 3-1 win for the Glasgow club. The Rangers statement added: "Our fans have been excellent this season both home and away and we do not want to see this tarnished."
Speaking to ESPN, club manager Ally McCoist said: "I didn't know anything about it until I came in after the game.
"Our supporters have been nothing short of sensational home and away this season. If they were a little bit out of order today, I apologise."
ESPN presenter Ray Stubbs had said the broadcaster was contacting the police over what he described as "sectarian singing" during the first half.
Supt Tim Smith, of Northumbria Constabulary, told BBC Radio Scotland: "There was a short outburst involving some sectarian chanting towards the start of the game.
"We identified that some chanting had taken place, we've taken video evidence of that to do follow-up inquiries and in addition to that two people have been arrested for that offence today.
"They are in custody and they will be interviewed later this evening regarding the offence. We have video footage of other matters within the crowd and that will be further investigated by officers from the Focus [Football Co-ordination Unit for Scotland] team from Strathclyde Police."
Supt Smith said legislation covering sectarian chanting applied to travelling fans and was enactable outside Scotland.
He said Northumbria Constabulary would decide with appropriate authorities where any prosecution that takes place would be carried out.
The force also issued praise for the majority of fans at the game, who it said were mainly good natured.