Blaze at disused Westercommon Primary School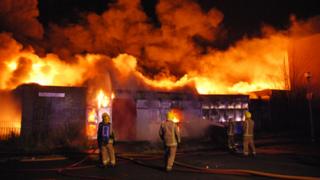 Firefighters have been tackling a blaze at a disused school in the east end of Glasgow.
The fire broke out at Westercommon Primary School in Ellesmere Street at about 02:45.
A spokesman for Strathclyde Fire and Rescue said about 30% of the school had been affected, resulting in a large amount of smoke.
At the height of the blaze, it was being tackled by 35 firefighters. There are not thought to be any injuries.
Group Commander Eddie Mullen said: "The crews were faced with a well-developed fire from the outset and they worked tirelessly in difficult conditions to prevent the spread of fire to other parts of the building and the neighbouring properties.
"The fire was quickly contained and is now under control. However, crews will be on the scene for a considerable time."
Strathclyde Fire and Rescue and Strathclyde Police are investigating the cause of the blaze.