Reid Kerr College lecturers strike over pay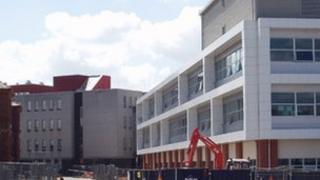 Lecturers at Reid Kerr College in Paisley have staged a one-day strike in a dispute over pay.
The lecturers - who are members of the EIS union - said they had not been offered any increase in their salaries this year, unlike staff at other further education colleges in Scotland.
Reid Kerr College is due to merge with Clydebank College and James Watt College.
Management at the college called the industrial action "disappointing".
The union said lecturers at both of the other colleges involved in the merger had been offered a pay rise this year.
It has said further strikes will be held next week unless management are "willing to enter into meaningful negotiations immediately".
EIS general secretary Larry Flanagan said: "Lecturers at Reid Kerr College are taking this strike action as a last resort in response to college management's refusal to negotiate a fair and reasonable pay offer.
"Lecturers do not want to strike, but have been forced to do so by the college's refusal to make a pay offer.
"We hope that students and the wider community will support EIS-FELA (Further Education Lecturers' Association) members in their campaign for a fair pay settlement."
Scotland's colleges face a cut of £25m in their budgets in the next financial year.
A spokesman for Reid Kerr said: "Colleges have faced significant reductions in funding over the previous two years and with cuts set to continue into 2013/14.
"Management's priority is to ensure a wide range of provision supporting our students and the local communities whilst protecting jobs and ensuring the college remains financially sustainable.
"The college has a strong track record over many years of a commitment to pay its lecturing staff amongst the highest salaries and most attractive terms and conditions in the sector, therefore it is disappointing that staff have voted to take action at a time when many employers face difficult decisions in the current economic environment."
He said management had continued a dialogue with unions and had told staff that the college would find the means to make a pay award.
"Our priority is, as always, our students, and we are working to put measures in place to minimise any disruption to them," he added.