Jail terms for £1.2m cocaine dealers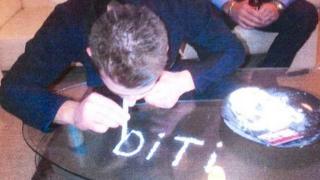 Four members of a criminal gang which imported £1.2m of cocaine into Scotland have been handed lengthy jail terms.
The men were arrested in Glasgow in May last year by the Scottish Crime and Drug Enforcement Agency (SCDEA).
Arben Dumani, 23, from Kosovo, and Albert Memia, 25, from Albania, were given 12 and 10 years respectively.
Fabion Ponari, 23, also from Albania, was jailed for five years. Gjeorgj Pjetri, 30, from Kosovo, was jailed for three years and six months.
The High Court in Glasgow heard that the crime network - from Albania and Kosovo - operated out of a safe house in Glasgow's Kinning Park area.
Surveillance operation
The jury heard how Dumani and Memia were involved in a "high level and large scale" drugs operation between 3 and 30 May last year.
Prosecutors said the pair were linked to "serious organised crime" with cocaine intended for users "in communities across Scotland".
SCDEA officers spent weeks last May tracking the gang as part of Operation Eclipse.
Dumani and Memia were regularly spotted visiting the unoccupied flat in the city's Milnpark Gardens.
It was there high-purity cocaine was mixed with a bulking agent to increase supply and maximise profits.
The pair, along with a third man, were also seen carrying a hydraulic press - used to help package the drugs - into the property.
On 30 May, detectives - who also bugged the safe house - removed three large blocks of cocaine from a kitchen cupboard.
Dumani later dropped off Memia - who quickly discovered the drugs were gone.
The court heard how a panic-stricken Memia immediately called his friend, telling him: "Hello Luli, come here quickly - everything is lost." Police soon moved in and arrested the pair.
Courier Ponari was stopped the same day at the door of Dumani's home in Balornock, Glasgow.
He had been planning to deliver £235,000 of cocaine that had been stuffed inside a case.
Pjetri was also detained after he had earlier been spotted taking part in a drugs handover at the city's Springfield Quay.
The court was told how a Blackberry phone was found in Dumani's Mercedes when he was caught.
One photo stored on the handset showed Memia snorting cocaine that had been arranged to spell out his nickname "Diti".
Pjetri was also photographed sniffing the drug while Dumani was seen waving a wad of £100 notes.
'Unlucky people'
Dumani denied during the trial that he was involved in drug dealing and claimed he was the victim of a series of "inexplicable shocks".
He claimed he owned the Blackberry when the photo of him was taken - but had later given the phone to Memia.
Dumani also said he never entered the Milnpark Gardens flat - and insisted he sat on the doorstep whenever Memia went in.
Advocate depute Mr Miller, in his closing speech to the jury, said: "If that is indeed true then he is clearly one of the most gullible, naive, unworldly and unlucky people you will ever meet."
Dumani's QC Edward Targowski said the conviction had a "devastating effect" on the dealer and his family.
The Kosovan was just 10 when he and his relatives escaped their homeland for a new life in Glasgow.
Despite his denials, Dumani was convicted of being concerned in the supply of cocaine. Memia pleaded guilty to the same charge.
Temporary judge Michael O'Grady QC told the pair: "This operation that you two were an integral part of was exceptional in its planning, sophistication and scope.
"You were responsible for physically setting up a drug processing plant and responsible for processing and intending to distribute class A drugs."
Following the convictions, Det Ch Supt Athol Aitken, head of investigations at the SCDEA, said: "This serious organised crime group, led by Arben Dumani, was involved in the importation of cocaine with an estimated street value of £1.2m.
"This was a significant quantity of drugs that would have caused untold harm to Scottish communities and I welcome the court result, which will ensure the individuals involved are held accountable for their crimes."