£4.7m town centre facelift approved for coastal town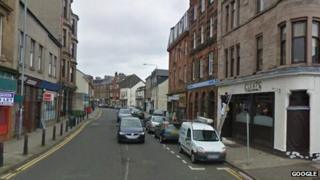 A £4.7m project that aims to transform a coastal town centre has been given the go ahead by councillors.
Described as "the biggest single investment in Gourock for many years", the facelift will include a new one-way road system for the Inverclyde town.
There will also be a riverside footway and cycle path and a small boat launch at the pier to access the River Clyde.
The scheme is a partnership between Inverclyde Council and regeneration company Riverside Inverclyde.
Following approval by its planning board, council leader Stephen McCabe said: "This is an important milestone for a project representing the biggest single investment in Gourock for many years."
During the public consultation process, 178 people made representations of which 51 objected, 124 supported and three provided observations.
Visiting experience
"There has been a lot of discussion and debate over the past few months, but I am confident the plans have taken the view of local people and businesses on board and have come up with the best possible solution," said Mr McCabe.
"It is vital that we improve the shopping and visiting experience for people while ensuring local businesses and traders benefit."
As well as the one-way system in Kempock Street and the boat launch facility at Pierhead, the project envisages 400 car parking spaces, a new public space and Kempock Street's public spaces being redesigned at each end.
"This development has been a long time coming and has created considerable debate amongst local politicians and the community," added McCabe.
"However, I think it is a balanced proposal and one that will improve traffic flow through Gourock, will enhance available parking for residents and visitors and will improve the overall public realm.
"It is to be welcomed and I am pleased the project can now move forward."