Woman struck during armed robbery attempt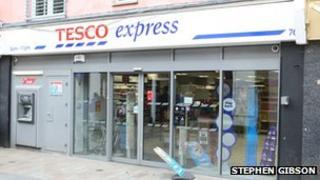 A female member of staff was struck on the head during an attempted armed robbery at a Tesco Express store.
Strathclyde Police are appealing for witnesses after two men, one armed with a firearm and the other a knife, entered the Kilwinning store at 06:00.
They demanded money from supermarket staff before making off empty handed.
While the firearm was not discharged, a 47-year-old was hit on the head, although she did not require medical treatment from the ambulance called.
She had been on duty with two other female members of staff in the Main Street shop when the two men attempted the robbery.
Passing bus
The two men, who made off towards the Woodwynd area, are both described as 5ft 7in, one wearing a black hooded top, a black balaclava and brandishing the firearm, and the other wearing a grey hooded top, black balaclava and holding the knife.
Det Insp Steven Wallace, who is leading the investigation. said: "We know a bus was passing the Tesco Extra as the suspects made their escape.
"I'd appeal to anyone on that bus who saw the men to get in touch.
"I'd also appeal to anyone who saw anything suspicious in the days leading up to the attempted robbery."
Detectives at Saltcoats Police Office are continuing enquiries, including reviewing all available CCTV footage, to try to identify the men responsible, while extra police patrols have been assigned to the area.