Derek Telford jailed for life for murdering James Kerr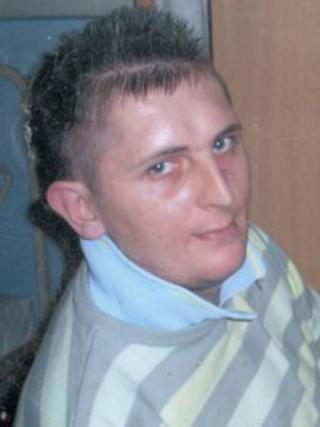 A murderer who cut off his dying victim's ear and shouted "can you hear me now" has been jailed for life.
Derek Telford, 31, killed James Kerr, 34, over a drugs dispute, at the victim's flat in Glasgow in April 2012.
At the High Court in Edinburgh he was jailed for a minimum of 25 years.
Co-accused Lorraine Callaghan, 40, was cleared of murder. Both were convicted of attempting to defeat the ends of justice by cleaning up blood and setting fire to Mr Kerr's body.
The murder charge against Callaghan was found not proven.
The court heard how Telford went to Mr Kerr's house in Glasgow's Knightswood area on 11 April last year apparently to buy drugs.
He is said to have attacked his victim after being told no drugs were in the house.
Birth certificate burned
The court was told that Telford used a samurai sword, knives and a hammer to inflict 30 wounds on Mr Kerr during the attack.
Pathologists told the trial that Telford had continued to slash at Mr Kerr's face even after he was dead.
He and Callaghan then attempted to defeat the ends of justice by cleaning up blood before setting fire to a pile of the dead man's clothes and burning his body.
Telford also threw Mr Kerr's birth certificate into the flames before fleeing the scene.
Sentencing Telford, Lord Brailsford told him: "This was an extremely violent attack on Mr Kerr in his own home.
"On the basis of what I heard you went to the flat with the purpose of purchasing drugs. You were admitted to the flat, stayed some time and at the end of this you attacked him inflicting 30 wounds to his head, neck and torso."
The attack ended, said the judge, when Telford thrust a samurai sword into James Kerr's head and neck.
The judge also noted that Telford had "an atrocious record" of 15 previous convictions and had still been subject to licence after a six year sentence at the time of the murder.
Telford, the court heard, had also refused to co-operate with a social worker preparing a background report.
'No remorse'
"You showed no remorse or understanding of the effect of your offending behaviour on others," said Lord Brailsford.
Speaking after afterwards Mr Kerr's mother, Alexina Lavery, 60, said: "I was really, really pleased. No length of sentence will ever bring my son back, but at least Telford is off the streets and it will save some other mother going through what we have been through."
Mrs Lavery, of Renfrew, also told of the agonies she had faced since last April when her son died.
The body was only identified when a witness sold Mr Kerr's photo to a newspaper for drug money - claiming the cash would go to the family.
She thought her son had perhaps fallen asleep with a cigarette in his hand because she only knew there had been a fire.
Then the family were told Mr Kerr had been murdered. The full circumstances of his death only emerged during Telford's trial.