Glasgow 2014: Queen's Baton Relay in Scotland
18 July 2014

From the section

UK
The Queen's Baton Relay has been the Commonwealth Games' curtain raiser since 1958. The baton reached 70 Commonwealth nations and territories ahead of the opening ceremony in Glasgow on 23 July 2014.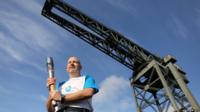 The baton took 40 days to travel around Scotland and 4,000 baton bearers carried the baton before it appeared at the opening ceremony of the Games on 23 July.
The route round Scotland covered every local authority from the Borders to the Shetland Islands.
Click on the links below to read the live text coverage of each of the 40 days in Scotland.
Queen's Baton Relay live page coverage
Day 1: 14 June - Coldstream and Edinburgh
Day 5: 18 June - Scottish Borders
Day 6: 19 June - Dumfries and Galloway
Day 7: 20 June - South Ayrshire
Day 8: 21 June - East Ayrshire
Day 9: 22 June - South Lanarkshire
Day 10: 23 June - North Lanarkshire
Day 12: 25 June - Clackmannanshire
Day 16: 29 June - Aberdeenshire
Day 17: 30 June - Aberdeen City
Day 18: 1 July - Shetland Islands
Day 19: 2 July - Aberdeen and Moray
Day 21: 4 July - Perth and Kinross
Day 22: 5 July - Perth to Stirling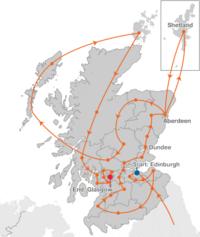 Day 24: 7 July - Stirling to Castlebay/Bàgh a' Chaisteil
Day 26: 9 July - Ullapool to Thurso
Day 27: 10 July - Orkney Islands
Day 30: 13 July - Argyll and Bute
Day 32: 15 July - North Ayrshire
Day 33: 16 July - East Renfrewshire
Day 34: 17 July - Renfrewshire
Day 35: 18 July - West Dunbartonshire
Day 36: 19 July - East Dunbartonshire