Lynda Spence trial: Former murder accused gives evidence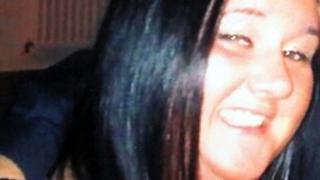 One of two men cleared of killing missing businesswoman Lynda Spence has been giving evidence at the trial of two others charged with her murder.
Paul Smith, 47, told the High Court in Glasgow that Ms Spence was left bound, taped to a chair and gagged at a flat in West Kilbride, Ayrshire.
He said it was a "cowardly act" not to get help for the 27-year-old.
Philip Wade and Colin Coats, both 42, deny abducting, torturing and murdering Ms Spence in April 2011.
Smith was previously charged with murder along with Mr Coats, Mr Wade and 38-year-old David Parker.
He and Parker had their pleas of not guilty accepted by the Crown when they admitted assaulting Ms Spence and attempting to defeat the ends of justice.
Both men will be sentenced at a later date.
Smith was called as a witness for the first time in the prosecution's case against Mr Coats and Mr Wade.
Feet taped
He said his understanding was that the woman was in danger because she had people looking for her, but when Ms Spence was brought to Parker's flat in Meadowfoot Road on 14 April 2011 it was a different situation completely.
Smith said Ms Spence was bound to a chair by her arms and waist with silver tape, with her feet taped together and she had dark sunglasses on which were taped inside.
Jurors heard that during the first few days of her being held in the attic of the flat, Ms Spence told the witness that Coats had cut off the tip of her pinkie finger and crushed her little toe with loppers, which Mr Wade had brought with him in a bag.
Smith said he heard Mr Coats say to her: "This is an abduction Lynda."
He told the court: "It was a cowardly act not to phone the police, on my behalf.
"The fear factor had set in with what was going on. We were involved in it, we were in the fold.
"I didn't know what Mr Coats and Mr Wade were capable of. I thought it was easier just to do what Mr Coats said, and not argue with him.
"I quite liked my fingers the way they were."
When asked by Solicitor General Lesley Thomson QC, prosecuting, if the woman had asked to be let go, he replied: "Lynda Spence never asked to be let go in the whole time she was there."
Later, Smith was cross-examined by Gary Allan QC, representing Mr Wade, who asked: "You never saw Philip Wade do anything did you?"
Smith replied: "No."
Mr Allan then put it to him: "You never saw Lynda Spence being assaulted by anyone, did you?" and Smith replied: "I didn't see anyone being assaulted."
Ms Spence has not been seen since April 2011.
The trial, before Lord Pentland, continues.