Lynda Spence trial: Ex-accused 'did not see murder'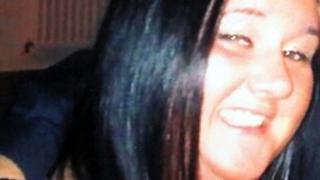 One of two men cleared of killing missing businesswoman Lynda Spence has said that he did not see her die.
Paul Smith, 47, and David Parker, 38, had pleas to lesser charges accepted by the Crown last week.
Under cross-examination at the High Court in Glasgow, Smith said he did not see Ms Spence being assaulted or killed by his two former co-accused.
Philip Wade and Colin Coats, both 42, deny abducting, torturing and murdering Ms Spence in April 2011.
Smith and Parker had their pleas of not guilty to murder accepted by the Crown when they admitted assaulting Ms Spence and attempting to defeat the ends of justice.
'Everything to gain'
Both men will be sentenced at a later date.
Smith was cross-examined by Mr Wade's defence lawyer, Gary Allan QC, on Wednesday.
Mr Allan said Smith had "everything to gain" by choosing to plead guilty to a lesser charge and giving evidence for the Crown against the two men.
Speaking in hypothetical terms, he pointed out that Smith could now be facing a jail term that is up to 25 years less than if he was convicted of Ms Spence's murder.
He referred to a statement given to police by Sean Alexander, a friend of Parker and Smith, which said: "David came down right away (to my house) and him and Paul went into my spare room.
"I heard Paul saying they are going down for murder and they would have to fire Philip Wade and his pal in."
'Lesser plea'
Mr Allan said: "That has been your plan right from the outset, to look after yourself and that would mean you would fire somebody in for murder - that somebody being Philip Wade and Colin Coats?"
Smith replied: "You look after yourself in these circumstances.
"I know I haven't murdered anybody and, if there's a lesser plea, obviously you would take it - anybody would."
Mr Allan then asked: "And you didn't see anybody else commit a murder either?"
The witness replied: "No."
The Crown alleges Ms Spence was tortured and murdered at a flat in West Kilbride.
Derek Ogg QC, defending Mr Coats, asked Smith if Ms Spence had not begged him to let her go and offered him a million pounds to allow her to go free.
Smith said: "That conversation never happened."
Flat attic
The QC said: "One thing we know about her, she could lie. Are you saying, as she contemplated her doom she never once said 'let me go'?" and Smith replied: "She never said that."
The defence QC suggested Ms Spence was being kept in the flat as a safe house because she owed various people money. This was denied by Smith.
Mr Ogg said: "The reason forensic scientists who worked for days and couldn't find anything relating to Lynda Spence in the attic was because she hadn't been in the attic."
Mr Smith stated: "She was in the attic."
The trial, before Lord Pentland, continues.