Councillors 'de-pedestrianise' Paisley High Street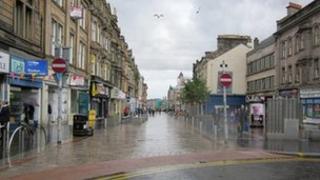 Councillors in Renfrewshire have backed plans to let cars back into a pedestrian-only zone of Paisley.
The move will allow cars and taxis to enter the controlled part of Paisley High Street between 16:00 and 10:30.
Renfrewshire Council's planning and property policy board took the decision in a bid to "inject new life into the town's night-time economy".
The new conditions are likely to come into effect by the summer after a public consultation.
Councillors also agreed to look at a second phase of the scheme which would see traffic allowed to enter the High Street from Gauze Street and St Mirren Brae.
'Broad support'
Renfrewshire Council leader Mark Macmillan said: "These proposals have received broad support from the local business community.
"We are not suggesting that this will solve every issue connected with the High Street - this is an attempt to try something different and see how it works.
"We hope that by opening the High Street up, it will boost the town's night time economy by giving cars and taxis easier access to pubs and restaurants and other entertainment venues."
The centre of Paisley was pedestrianised in 1997.