Dr Colin Campbell Mainds 'botched' spinal operations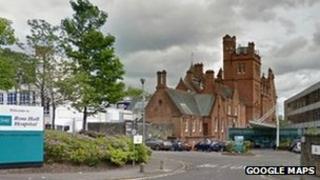 A spinal surgeon has been found guilty of misconduct over botched operations at a private hospital in Glasgow.
Dr Colin Campbell Mainds, 56, failed to provide "good clinical care" to nine patients at BMI Ross Hall Hospital, Crookston, between 2008 and 2009.
He misplaced screws, carried out inappropriate surgery and performed surgery despite a normal MRI scan.
A tribunal will now decide if his fitness to practice is impaired as a result of misconduct.
Dr Mainds, from the Isle of Arran, had faced 50 charges at the Medical Practitioners Tribunal Service.
He admitted to 13 charges at the start of the hearing in London.
Treatment risks
The tribunal heard how the doctor carried out inappropriate surgery on a 20-year-old patient in July 2009 by using an implant unsuitable for someone of her age and condition.
Dr Mainds carrying out inadequate surgery on three other patients, where spinal implants were incorrectly placed.
The panel found that he did not provide two patients with enough information to make an informed decision on the risks of treatment.
It was also found that he did not carry out an adequate examination of three patients before surgery.
Tribunal panel chairman David Flinter said: "The panel has determined that, in so far as the proved findings of fact are concerned, between 1 January 2008 and 31 December 2009 you failed to provide good clinical care to nine patients.
"Having reached findings on the facts, the panel will now invite further evidence and submissions as to whether, on the basis of the facts found proved, your fitness to practise is impaired by reason of misconduct."
The doctor was cleared of a number of other charges at the hearing.
A spokesman for BMI Healthcare said: "We suspended his (Mr Mainds') practising privileges which allowed him to operate at Ross Hall in October 2009.
"His practising privileges remain suspended and he has not worked in a BMI hospital since that date."
The hearing continues.