Knife attack man Steven Scott in State Hospital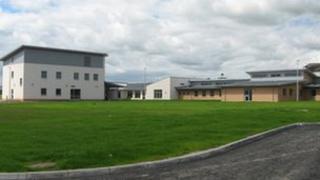 A 24-year-old man who faced a possible life sentence for a spate of knife attacks may instead end up in the State Hospital at Carstairs.
Steven Scott, from Inchinnan, carried out four assaults in five days in Renfrew and Port Glasgow in March 2011.
At the time he was out on licence from a previous attempted murder sentence.
A judge has now decided to keep him in the State Hospital while doctors carry out further tests into whether he suffers from a mental disorder.
Scott was jailed for more than five years in 2007 for attempted murder and was out on licence at the time of the previous offences.
Collapsed lung
His first victim, 19-year-old Ryan Keegan, was struck on the head with a knife on 20 March 2011 in Renfrew.
Scott's second victim was 50-year-old taxi driver Robert Hewitt who was left with a collapsed lung after being struck in the neck by a knife on 22 March in Renfrew.
Victim number three was another taxi driver, 42-year-old Stephen O'Hagan, who was struck on the side of the face with a knife on 23 March in Port Glasgow.
Scott's final victim was 23-year-old Steven Maxwell, who was stabbed on the head and body as he walked along a street in Port Glasgow on 24 March.
Scott appeared at the High Court in Edinburgh in March last year for sentencing after he admitted the attacks.
Instead of sending him back to jail, judge Lord Woolman called for in-depth background reports - which could lead to a life sentence.
Before the process could be completed, Lord Woolman was told of doubts about Scott's mental health.
On Thursday, the judge made an interim compulsion order - keeping him in the State Hospital while doctors there carry out further tests.